Solar Sister: a passion for energy and women's empowerment
Nov 09, 2016 | written by: Lucia Lenci
This is an interview to Solar Sister, a network of African women bringing life-changing, affordable clean energy to their communities.
What is your story?
Katherine Lucey, the Founder & CEO of Solar Sister, has always had a passion for energy and women's empowerment. She spent more than 20 years as an investment banker focused in the energy sector. After taking time off banking to be with her family of five children, she began searching for ways to return to energy that were more personally fulfilling and socially impactful. After a trip to Uganda in East Africa with Solar Light For Africa, the idea for Solar Sister sparked.
During her trip she met Rebecca, a rural farmer from Mpigi, Uganda. Rebecca received a solar light and she wanted to put the light in the family's chicken room, knowing from experience that chickens eat better when they can see, and by increasing the hours of light, the chickens eat more, get healthier, and lay more eggs. Rebecca's husband wanted to put the light in the family room. After a family discussion, Rebecca stood her ground and the light was placed in the chicken room. Indeed the chickens laid more eggs, improving the economics of her farm and providing income that allowed her to buy seeds, and eventually a goat, pigs, and even a cow.

From the simple improvement of a single light, Rebecca built a farm and eventually a school where she teaches children to read, write, and do small plot farming. Rebecca's powerful story became an inspiration for Solar Sister. Seemingly small actions can create a ripple effect of positive change.
What is your mission and how do you pursue your goal?
Solar Sister is a network of African women bringing life-changing, affordable clean energy to their communities. Katherine Lucey founded Solar Sister in 2010 in order to address the severe gap in distribution of modern energy technologies to the rural poor where women make up the majority of the market. In order to change this, Solar Sister has built a last mile distribution chain for solar and clean cooking technologies through a women's entrepreneurship model.

When women act as salespeople, they help reach more rural women while also being economically empowered themselves. Solar Sister recognizes that women face unique challenges though in entering the technology market. Therefore, Solar Sister provides a package of inputs that includes business coaching, training, mentoring and start up kits to its network of women entrepreneurs to help kick start and grow their businesses. The majority of Solar Sister sales are portable, off-grid products (such as small solar lanterns and solar mobile chargers) which allow consumers to replace kerosene lamps and other dirty, inferior forms of energy. Last mile delivery refers to the movement of products from factories to local importers to wholesale distributors to the end consumer's doorsteps. Solar Sister sells a wide variety of clean energy products from a trusted network of manufacturing partners (think of us as a mobile, clean energy supermarket, run by women!). We select our technology partners based on the criteria of design, durability and post point of sale customer care.

Since starting with 10 entrepreneurs in 2010, Solar Sister has recruited, trained and mentored over 2,500 clean energy entrepreneurs that have delivered solar and clean cooking solutions to over 700,000 beneficiaries across Uganda, Nigeria and Tanzania.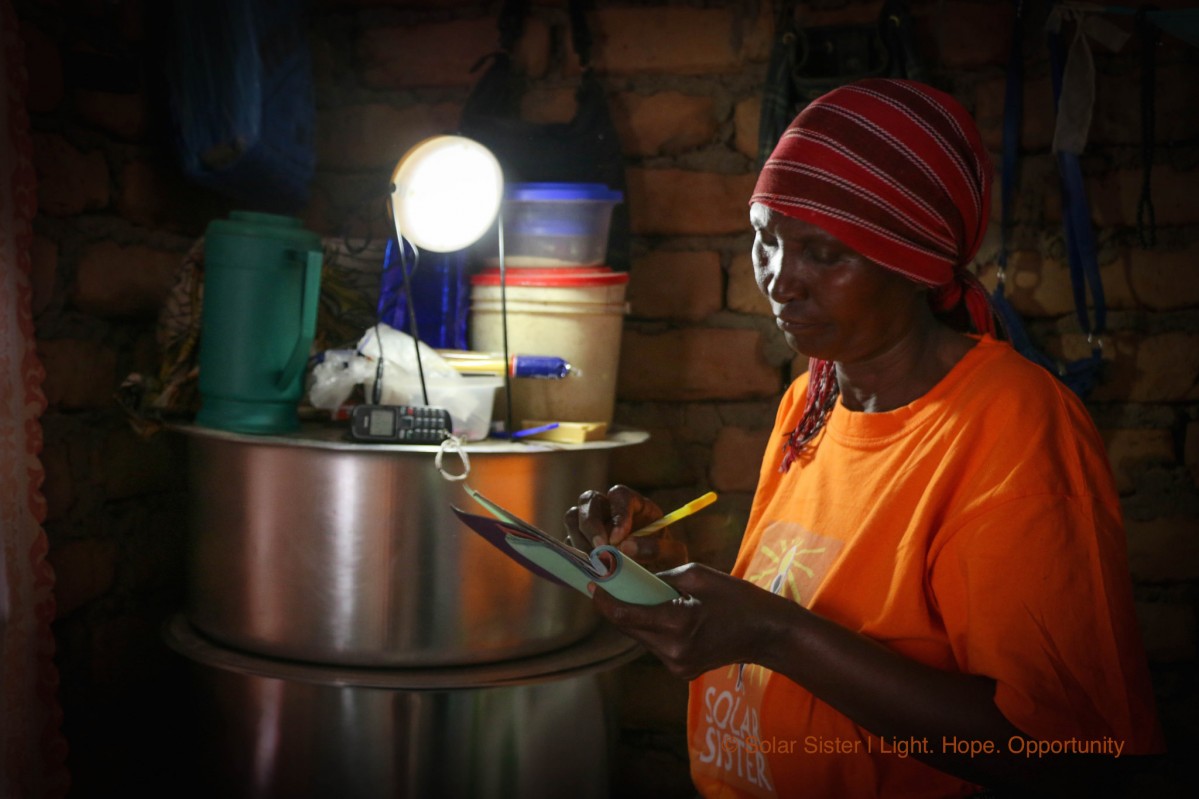 How do you train women and how do you provide access to clean energy?
Solar Sister's approach is deeply rooted in local capacity building and strengthening women's green leadership in rural communities. Solar Sister's field staff, known as Business Development Associates, recruit motivated women entrepreneurs who are not only interested in Solar Sister's business opportunity but are also passionate about helping to bring clean energy to their communities. Solar Sister provides entrepreneurs with a start up business kit after they sign up, which includes a bag to transport product, marketing materials, an inventory book, and a t-shirt. Entrepreneurs also receive initial and ongoing leadership, technical and business training as they work to grow their Solar Sister businesses.
Many Solar Sister entrepreneurs start by selling their products to their friends, families and neighbors and then branch out to other customers from there. Entrepreneurs purchase products from Solar Sister and then re-sell these products at a mark up, earning an income in the process. Solar Sister also works with many diverse partners to promote the sales of our network of entrepreneurs including local savings and credit organizations, women's groups, local clinics, schools and farmers cooperatives.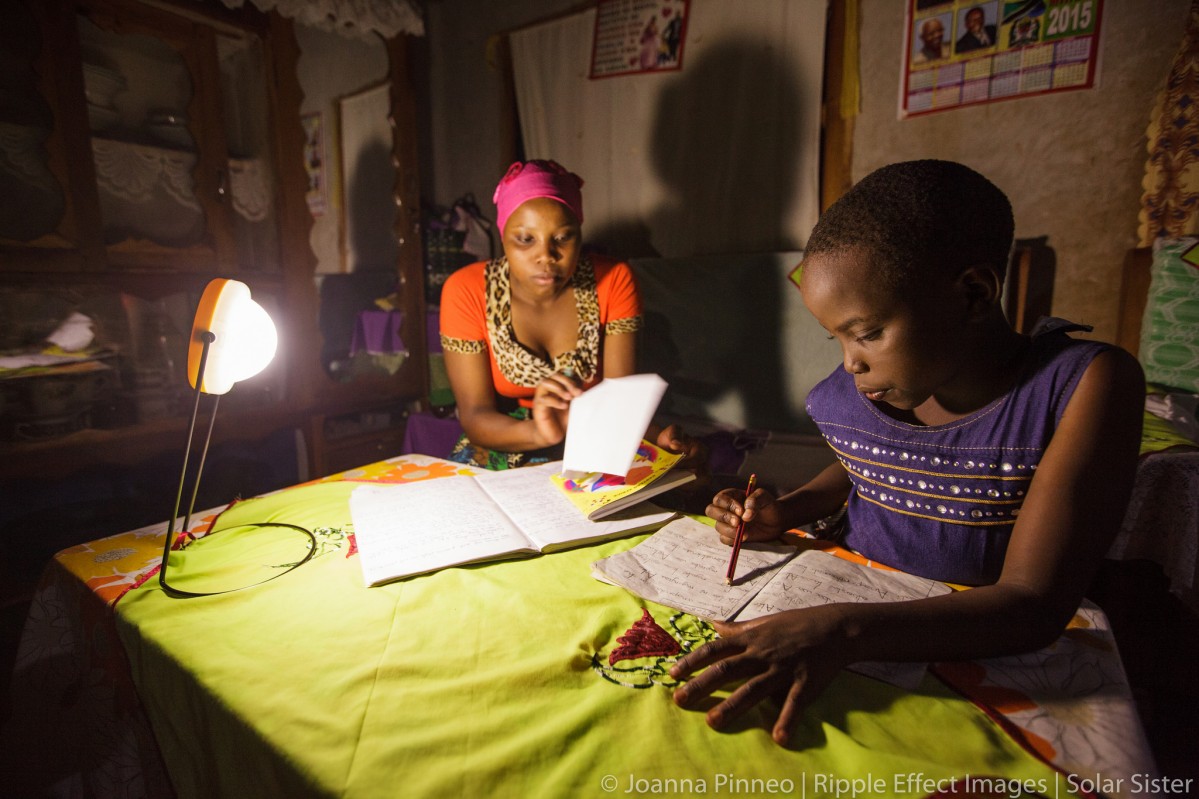 Why solar energy?
1.6 billon people in the world do not have access to electricity. Almost double this amount does not have access to clean cookstoves or modern fuels. If energy poverty was a person, chances are high that it will be the face of a woman working in a dark and smoky kitchen or a young girl who walks long distances to collect firewood, taking time away from studies and putting her at risk of sexual assault. Her family depends on kerosene lanterns and candles for light. They spend up to 30% of their family income on energy that is inefficient, insufficient and hazardous. Globally, the World Health Organization attributes about 4 million premature deaths a year (mainly children and women) due to pulmonary ailments linked directly to household air pollution, primarily from the use of biomass as a source of energy and kerosene lamps for lighting; this is almost doubled the incidence of HIV/AIDS and Malaria combined. Maternal healthcare (such as pre-natal care and nighttime deliveries) suffers in the absence of basic electricity.

Solar Sister is working to bridge the gender and technology divide in some of the hardest to reach, most energy poor communities in Uganda, Nigeria and Tanzania. Many of its customers live on or below the poverty line in areas where access to electricity is below 5%. As the primary consumers of household energy, women are critical to the successful adaptation of clean energy technology solutions. We believe that investing in women is a prerequisite for large-scale adoption of clean energy technologies at a grassroots level. It is this gender-inclusive systems approach, combined with an enterprise-based model to bring a sustainable livelihood opportunity to address energy poverty that makes Solar Sister unique. This means investment in women's leadership, creation of green jobs and support for women's enterprise to ensure that the future is filled with light, hope and opportunity.

How is Sister Solar making a difference? Can you give me few examples?

While there is a growing focus internationally on sustainable energy for sub-Saharan Africa, this focus has largely been on financing large scale infrastructure projects and home systems. However, there remains a severe distribution gap to the rural energy poor who currently live off the grid and are dependent on kerosene and other inferior forms of energy. As a result, clean energy solutions are not reaching rural poor women and they are being left behind – both in terms of energy access and in terms of the tremendous economic opportunity.

Solar Sister breaks this link by engaging women themselves in the distribution side of clean energy and by reaching the last inch of the last mile. The majority of our customers are dependent on kerosene for the lighting needs and cannot afford large home solar systems. Instead, Solar Sister creates an opportunity for them to meet their more immediate energy needs through purchasing solar lanterns and mobile chargers. Solar Sister entrepreneurs focus on meeting the needs of the first rung of the energy ladder where impacts are the most transformative.
How do you explain sustainability and mitigation to climate change? How much do off-grid households spend per day on kerosene lighting, basic charging costs and for cookstoves? How is Solar Sister impacting in everyday life? Can you resume Solar Sister in numbers?
Since starting with a network of 10 entrepreneurs in Uganda in 2010, Solar Sister has scaled our network to over 2,500 grassroots entrepreneurs and has delivered clean energy access to over 700,000 beneficiaries across Uganda, Nigeria and Tanzania.

Solar Sister serves the hardest to reach, most energy poor communities. 90% of Solar Sister beneficiaries live in rural communities which largely lack access to electricity and are dependent on expensive, dirty forms of energy.
Solar Sister beneficiaries benefit from increased access to safe, affordable clean energy solutions and ongoing product maintenance and support. As a result, they cut their energy expenditures in half, saving on average 200 dollars per year.
Respiratory related illnesses as a result of indoor air pollution are the leading cause of death of women globally. As a result of purchasing solar lighting and clean cookstoves from Solar Sister, beneficiaries report improved vision and respiratory health as well as more consistent product use than industry averages.
As a result of earning an income and gaining new skills from joining Solar Sister, women entrepreneurs benefit from increased confidence, status, decision making power and level of financial independence in their households and communities.
Solar Sister entrepreneurs re-invest their earnings from their Solar Sister businesses, which represent on average 15% of their personal income, primarily in meeting basic household needs (such as buying food), paying schools fees and generating saving.
Solar Sister entrepreneurs also benefit from using the clean energy products they sell. 9 out of 10 women entrepreneurs use their own solar lights to provide light for their children to study by at night.
As a result of purchasing a clean cookstove from Solar Sister, women are able to reduce time spent on fuelwood collection by 62% and reduce their expenditures on fuel for cooking by 43%.
You may also want to read: