In Kenya, as in other countries, the gap between women's rights and their lived experience is often profound. Through our work we try to bridge that gap.
Elisa joined Treedom's Forestry Manager team two years ago, bringing with her experience, enthusiasm and an uncommon ability to observe, memorise and narrate. She recently visited the projects we carry out in Kenya, a country that is particularly important to us. This is not only because we have been active here since 2014 and have planted more than 1 million trees on Kenyan land, but also because it's here we started to experiment with new and different forms of collaboration with NGOs and local communities. Planting trees, but also training and other activities that support education and gender equality. You could say that in many ways, Kenya has been a 'pilot' country for our work.
The first time I was in Kenya was four years ago and it was an amazing experience, so on her return I asked Elisa what had impressed her most. She replied: "The women, the women in Kenya have incredible strength and gentleness." I was intrigued by this answer and thought that, on International Women's Day, it was worth asking more.
Which areas of Kenya did you visit?
I spent two weeks in Kenya together with Riccardo [another Treedom forestry manager] and our local partners, to assess the progress of the projects, visit the nurseries and the communities involved. We travelled all over the country, from Lake Victoria to the Watamu coast, passing through Nairobi and Mombasa.
You told me that what impressed you most was the women. Before talking about your experience, can you give a quick introduction to the typical condition of women in Kenya?
Kenya, like many other East African countries, is making important advances on the issue of gender equality. In recent years, new laws have been implemented on domestic violence and sexual assault and women's electoral quotas in parliament, while funds have been established to support entrepreneurship and education in women. For now it's hard to deny that these changes are more on paper than in reality. Changing customs, even when they are customs that it would be good to get rid of, is slow to happen. This is why women's empowerment is still a work in progress in Kenya, and several factors, cultural, political and economic, stand in the way of effective gender equality.
But that aside, what I was able to see during my mission in Kenya is the incredible strength of the women I came into contact with, women determined to make the most of the opportunities for emancipation and independence that are offered to them.
In what ways did you witness this strength? Can you give some examples?
Certainly, I think there are two stand-out examples I can give you.
The first is actually related to two different people, but with many things in common. These people are two young women: Anne and Bridget. Both are nursery managers, Anne in Kiambu (near Nairobi) and Bridget in Kilifi (on the coast). Together with the rest of their staff (80% women), they take care of every operational aspect of the nurseries: they manage the staff and supplies, organise the work and maintenance, deal with marketing and accounting. During my mission, I had the opportunity to follow their working days and I was impressed by the professionalism of these two girls, who are very young and handle huge responsibilities in a precise and gentle, but also very authoritative way.
Speaking with them, I really realised how much the 'education' factor affects women's empowerment: both of them confirmed how crucial education has been in their lives and how access to university studies can make a difference in a woman's life in Kenya.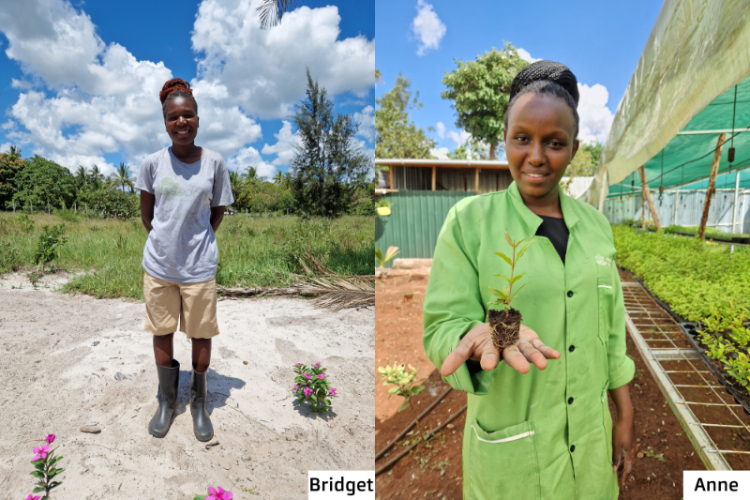 The second story is about the women of the Githunguri community. A community located in a rural area, albeit not too far from Nairobi. The community active in planting is composed exclusively of women, many of them widows. This detail is very significant, because the social status of widowed women in Kenya is very particular. Formally, the law protects the right of women to own land upon the death of their husbands, but in fact things are very different. According to an article in The Guardian, published a short while ago:
"Although in theory Kenya protects widows' right to inheritance, the patriarchal culture and the influence of colonial legislation that restricted the property rights of married women mean that the law is often not enforced. "There is a whole parallel system that operates outside the inheritance laws," said Roseline Njogu, a Kenyan lawyer. "Years of legislative reforms have brought us formal equality, but equality of law does not mean equality of power, and that is where we stumble."
This makes it clear why our project is particularly relevant to these women. The working community makes it possible to give substance to those rights, which would otherwise only exist on paper. And this is very important. When we went to visit them the atmosphere was absolutely festive: before we started distributing the seedlings to the beneficiaries we sat around the table and we all ate together, they told me about their families - many of them at my age already had several children - we joked about marriage and work.... It really felt like a family Christmas lunch, complete with aunts squeezing your cheeks and grandmothers offering you more and more!
Can you tell me about other ways in which Treedom contributes to women's empowerment in Kenya?
Just a few days ago we received the results of a study done on our projects together with ALTIS (Alta Scuola Impresa e Società) of the Catholic University. More than two hundred beneficiaries were interviewed in Kenya, equally divided between men and women. These people were asked to evaluate the impact Treedom has had on various areas of their lives: from personal well-being to economic independence to education. One of the most interesting results was precisely the fact that the impact perceived by women was clearly more significant than that perceived by men, particularly at the economic level (where the impact averaged 4.97 out of a score of 1 to 7*) and education, understood as knowledge of sustainable farming practices (with a score of 5.74 out of 7*). Two areas that, as I mentioned earlier, are in my opinion crucial for women's empowerment.
I know that perhaps from the outside these numbers might mean little. But to have a real and lasting impact on someone else's life for me is an exceptional thing and it was an honour for me to have the opportunity to see this for myself.
I hope my story helps all the people who have helped change the lives of these women in Kenya to feel as proud as I do of the small but significant change they are bringing to the world.
You may also want to read: