Living green: expert advice on making everyday eco-decisions
Oct 16, 2022 | written by: Helen Elfer
Trying to figure out what's best for the environment on a day-to-day basis is a pretty tricky job. We don't have all the facts and figures at our fingertips, not to mention trying to spot what's genuine advice and what's greenwashing...

Fortunately someone else has done a lot of the hard work already, and is happy to share her research – so we grabbed the chance to chat with Georgina Wilson-Powell, author of Is It Really Green? Everyday Eco Dilemmas Answered and pick her brains about what we can do that will make a difference.
"Consumers are the ones pushing for change from the bottom up… we need the CEOs to think more like the activists on the streets"
What inspired you to write the book, and what did you hope to achieve?
For the last few years I've been running Pebble magazine under the tagline of 'everyday activism' and trying to help normalise the behaviour changes that we all need to make as consumers and citizens to help get our countries and our homes to Net Zero. The book is an extension of that, packed with useful tips and advice that I have come across in the last few years, interviewing experts and researching articles.
Who do you believe should be taking responsibility for climate change?
It's tough because we need everyone at every level to make changes if we're to get to Net Zero but over the last few years, the emphasis has unfairly been put on consumers, while massive brands have continued to greenwash, find loopholes and carry on polluting our environment. There needs to be more binding legislation and penalties for corporates who aren't changing, and we need to see authentic, engaged political leadership to inspire everyone to pull in the same direction. Sadly consumers are the ones pushing for change from the bottom up and we seem to be moving further away in many countries from environmentally conscious leadership.
Do you feel hopeful about what the future holds?
I'd be lying if I said I didn't suffer from eco-anxiety like a lot of people. I believe in the power of hope and in people power, but my worry is speed. We need massive systems change, not just in one country but every country and that is enormous. We have such potential, there is huge innovation happening which makes me feel optimistic but politics and corporate greed are seriously holding environmental progress back. We need the CEOs to think more like the activists on the streets.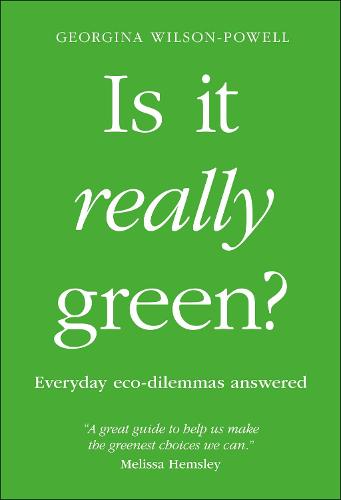 Here are ten handy tips from Georgina:
1) Lighten your laundry load
The planet's washing machines emit a whopping 62 million tonnes of CO2-eq greenhouse gases each year so every wash is a chance to chip away at that. Plus the machines wash detergent-heavy water into our rivers and seas which affects marine life, along with the 100,000s of microplastics that come off our mostly plastic clothing.
Dial it down to 30 degrees, which will save you money on energy

Use a plant-based detergent, refill it from a zero waste shop or order online in cardboard packaging.

Use a Guppybag to catch microplastics

Wash less often (spot wash more)

Buy more natural fibers (wool, linen, bamboo etc) when you can.
2) Make your garden greener
Not all gardens are green! Is your outside space (however big) working for the planet? Make it more sustainable with these handy tips:
Install a water butt to capture rainwater to use next summer

Only buy peat free compost - we need peat in the ground locking away carbon

Create a small water space for birds and insects to drink from - even an upturned dustbin lid would work with stones for them to access water.

Plant as wide a range of flowers and herbs as possible to give bees food from spring to autumn

Grow as many veggies as you can fit in to stop relying on plastic-covered supermarket versions.
3) Choose a bag that's good for the planet
Everyone loves a tote right? While they're definitely less plasticky, cotton production (even organic cotton) has a high carbon footprint, which includes the hipster essential tote bag. You would have to use a tote bag over 130 times to work off all of the emissions associated with its production. Have a tote bag? Use it all of the time. Say no to new ones. Wash it when it gets dirty. Repeat.
4) Downsize your digital footprint
Digital working is better for the planet than using lots of paper but it isn't carbon neutral. Did you know an hour's Zoom call creates around 1KG of CO2? Even an email with an attachment has a carbon footprint of about 50g…so it's time to downsize your digital work, with these 3 easy actions:
Delete files, videos and docs you don't need so you use less cloud storage (data centres have a carbon footprint to rival a small country)

Don't do one word email tennis - 'thanks' or 'cheers'. Add a note to your signature to explain what you're doing.

Unsubscribe from emails you never read.
5) Turn down the thermostat
Turning it down just one degree will save around 10% of your energy bill and save the planet 340kg of CO2 a year.
6) Love your freezer
Freeze as much as you can to reduce food waste. Wine, bread, cheese, veg, herbs - it can all be frozen and used up later on. Got veg going off? Make ratatouille, soup or veggie tagines and freeze for future dinners.
7) Insulate, insulate, insulate
From hot water cylinders jackets, to foil behind radiators (to reflect heat back into your room), being green this winter is the same as bringing down your energy bills.
8) Think secondhand first
It's never been easier to shop secondhand - from kids' toys to cookware from a variety of apps, Facebook groups and eBay. Challenge yourself to not buy anything new this month in terms of clothes, shoes and homewares and see what bargains you can find. How many times we wear an item has dropped over the last 10 years by 36% and 1/3rd of young people consider clothes 'old' if they're worn once or twice. Ideally we'd stop everything from ending up in landfill or burnt, so how inventive can you be upcycling or keeping clothes from the bin?
9) Move your money
From pensions to your current account, where our money is invested matters. If you're not sure about your provider's ethical investing policy (or if they don't have one), ask for more details and be prepared to move to a provider who is strong on ESG investing (Environmental, Social and Governance) or at the very least has pledged not to invest in fossil fuels, tobacco and arms - because they are still big business.
10) Change your period routine
Period products are some of the items that wash up the most on beaches. An average woman will go through 11,000 single use period products in her lifetime and they take centuries to break down. An average pack of sanitary pads has the same amount of plastic as 5 plastic bags.
Swap to a reusable silicone mooncup.

Choose reusable period wear which doesn't contain plastic

Buy organic, plastic-free tampons
We're sharing Georgina's tips every Monday on Instagram this month and next - follow us there to join the conversation about climate change action!
Georgina Wilson-Powell's book Is It Really Green? Everyday Eco Dilemmas Answered is available from Bookshop.org, Hive and all good bookshops in the UK and on Amazon in UK, EU and US.
You may also want to read: