Treedom's impact in Sicily: Mafia and Autism
Apr 29, 2023 | written by: Luca Messina
"Do you know why blood oranges are red?"
The smile on his face while he asked this simple question was proud, like that of an elder teaching younger generations about the secrets of life and passing down the knowledge of a lifetime surrounded by the fruits of his land. "It is their exposure to the cold at night, and then the warmth during the day. In order to withstand the cold, they produce an antioxidant called anthocyanin, this in turn leaves the fruit colored with a red pigment"
We were at the base of Mount Etna, its 3000 metres towering above us, black volcanic rock highlighted in a beautiful blue sky, clear
but filled with life as a storm of birds kept flying in circles above us. The sun was shining warmly on the land and all its wonderful trees: olives, lemons, and oranges.
Glorious.
"To be able to live every day surrounded by such beauty is a blessing" said Alfio Curcio, a full of life, youthful man in his 50s with a radiant smile, while walking me through the land he manages for the Libera Terra project in Sicily. He had agreed to meet me on short notice, so that I could see the impact that Treedom trees have had on his local Sicilian community and on the land I am also a son of. I spent a couple of hours with him, on the last Friday of 2022, picking his brain for knowledge and listening to what he had to say. We walked amongst the different trees, talked about how Libera plants biologically and how they offer opportunities to people who are trying to be reintegrated into society.
"Treedom's trees have given us the opportunity to become what we are today" Alfio stated while telling me the story of Libera Terra.
"To be able to run an organization like ours and allow local people to work is a tough job and being supported by Treedom has made all the difference in getting this project started. The first years we'd just produce small quantities of jam and conserves with the little fruits we had, now we have several different types of products and a solid production of Oranges and Lemons that gets many people in the community the opportunity to work".

As a Sicilian, to see what Alfio does really touched my heart, because I can see both the love he has for the beautiful land he works on and the bravery needed to take the stand he does within Sicilian society. In fact, Libera Terra has the objective to bring new value to Sicily, requalifying lands that have been confiscated from mafia and dedicating them to the ethical production of high-quality
products. The project's mission is to bring back a sense of dignity in areas strongly dominated by mafia through the creation of self-sufficient cooperatives that can give work to the locals, generate income and stand for an alternative economical system, based on legality and social justice.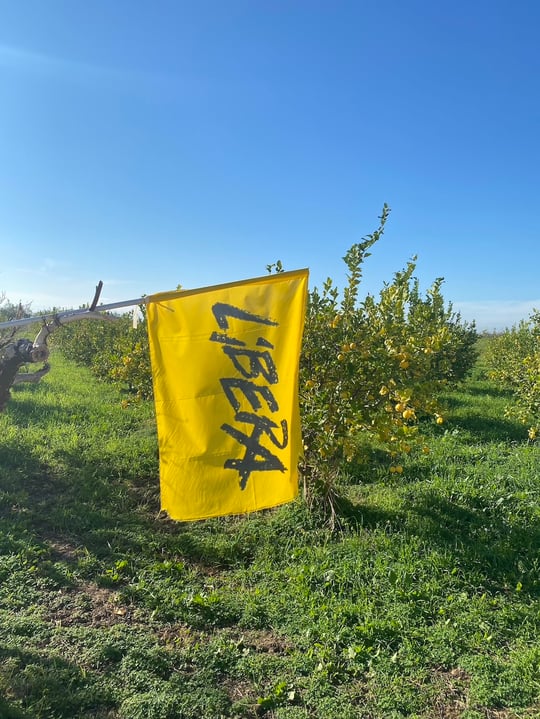 The Libera Terra flag flying next to the trees planted by Alfio
The impact Treedom has on Sicilian reality did not end with Alfio at the base of Mount Etna. I hopped right back into my car and headed north, to continue my journey of Treedom's impact on my homeland. My destination, the stunning valley of Alcantara.
I arrived at the ruins of a house which may have been used by shepherds in the past. At the bottom of a hill there was a small lot of land rising upwards into the mountain. Looking over the land I saw 3 men, one of them was standing, sickle in hand cutting down overgrowth to tidy up the land. Looking a little closer, I realized he must have been well over 80 (87, I later discovered. He looked healthy and happy, his body tempered from a life spent working in contact with nature, his smile relaxed and youthful. Seeing such a healthy individual immediately made me reflect on how important a simple life, filled with movement and contact with nature, is to human overall health and well being. I soon learnt the man was the father of Carmelo Cutrufiello, project manager for Fondazione Ulisse. Carmelo comes from a long lineage of agronomists, with his grandfather already having studied and practiced agronomy in Sicily in the late 1800s. Carmelo is a very educated man, has a contagious smile and is a warm hearted host. He walked me through their lot of land, eloquently telling me about Fondazione Ulisse.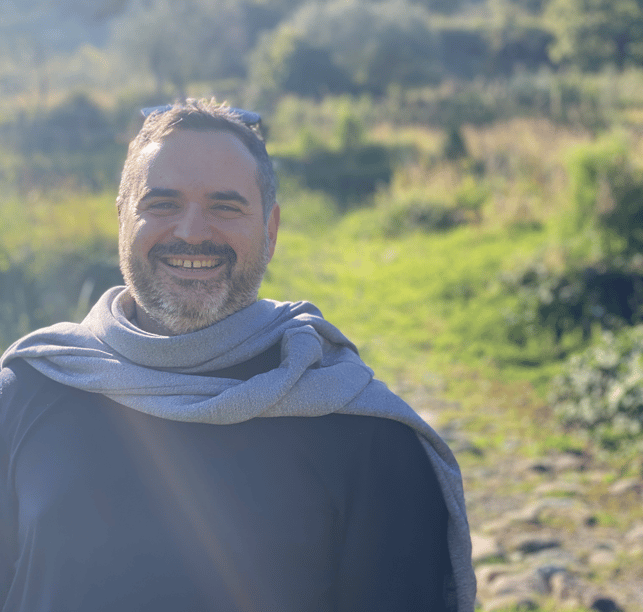 Carmelo Cutrufiello, project manager of the Fondazione Ulisse

Ulisse is an organization which takes care of the disadvantaged, undereducated youths and adults looking to re-enter the world of work and individuals with autism. "We work side by side with Autismo ONLUS to offer a possibility to individuals with autism to move their bodies and accomplish tasks in nature. It is not always easy, there are many challenges, from budget, to the fact that
all these individuals need qualified professionals to accompany them, but the final result makes it all worth it".
On a normal day if you go to visit Carmelo's land you will see several youths working around the land, losing themselves in tasks in contact with nature, moving their bodies in ways they are not so used to, laughing and enjoying the simple joys that life offers us. There has been a substantial increase in autism in the recent years, and projects run by people like Carmelo allow a breath of fresh air into a reality that until not so long ago was considered taboo. The Ulisse Foundation offers autistic subjects and their families a safe place to interact with and feel supported by a community. It is so inspiring to see there are people who want to do good in this world with whatever means they have, and Carmelo is one of them.
"The collaboration with Treedom has allowed us to try on field a process of rehabilitation and competence development of autistic individuals." Carmelo has dreams of developing and expanding his small reality into something even bigger, and he counts on the support and certainty Treedom can give to help this expansion. As a true Sicilian man of hospitality, Carmelo of course didn't hesitate to take me out to his favorite spot to share some conversation about life in front of spectacular traditional food.
We then said our goodbyes as he had to get back to work and I had a long ride home. The journey back to my home town was long enough to allow a reflection on what I had experienced that morning. Driving back with the Sicilian sunset behind the ever present
volcano, I was in awe of my beautiful land, a land with so much to give, so much beauty and magic, and yet with so many problems and controversy. I arrived home with a new feeling of pride of being Sicilian, inspired by the two men I met, who are taking initiative directly on their shoulders to bring positive change on an island where often change is welcomed with "why would you even try. It's always been like this".
To be able to see the connection between what I do in my everyday life with Treedom, and some of the different realities we help support in a land I also have strong emotional ties to was a blessing. Definitely a great way to drive into the sunset and into 2023, with a sense of confidence that positive change is possible in the world, and that we are those who must take it in our hands.
The tree is more than first a seed, then a stem, then a living trunk, and then dead timber.
The tree is a slow, enduring force, straining to win the sky.
Antoine de Saint-Exupéry
You may also want to read: